This will mean nothing to anyone but me, perhaps.
However, I need to save it here after searching for so long!

I know I've written about this in the past...
that thing where I spontaneously recall a place from my past.
Usually this is a place where I've lived or traveled, that for whatever reason
has become stuck in my mind & heart, a place to revisit at will.
The photo above in one of those places, well kind of.
For ages now, I've tried to remember what this place was.
We did not GO here, but merely drove past...
down past the long vine covered walls & around the

(Or roundabout I discover)...past the arch in the photo above.
We continued for a short bit stopping at a small Harley shop and art gallery space.

~Road Trip in Sedona, AZ in 2009~
I have wanted to go back to Sedona...and Flagstaff, for that matter, ever since that 2009 trip.
But, until that possible time, I am somewhat ridiculously relieved to finally have a name and actual location for the above memory!
↔ ↔ ↔ ↔ ↔ ↔
On a smaller scale, closer to home, I've been trouble-shooting my way through the first steps of Orlo's Christmas Stocking. There has been an awful lot of that problem solving, along with trial & error, doing & undoing and slow going. but, I'm not detoured. I just keep going.
First thought was to use these old shorts from my High School days and that handy removable cross stitch fabric. You know, the kind that after stitching, you get it damp and pull those threads out.

After several mistakes and trying again...I gave up on that idea. Can you see how those little threads are doubled? Way to wreck your dry eyes!

On to my next idea of using regular cross stitch cloth and layering it on top of the old corduroy shorts fabric, once the name was stitched on. I was pleased with this mistake and change of plans because the green really didn't show up that well on the brown corduroy. But the new cross stitch fabric looked SO BRIGHT after staring at brown corduroy! So, into the tea dye it went!
I'm always fascinated with the lights and darks, nooks and crannies, shadowy images
in a dye jar.
They remind me of the lesson on "subliminal messages" from a High School English class unit on advertising. We studied those old ads for Whiskey, where supposedly there were sexy women hidden in the ice cubed drink delight!
Anyway, the cross stitch fabric looks much better now
and will fit in well with the old corduroy.
If my tired eyes could just get it done.

I wasn't too sure what all I had for the stocking liner.
Then I remembered I had some muslin, so into the dye jar it went too!
His stocking will smell like Ginger Tea!

↔ ↔ ↔ ↔ ↔ ↔

*Imagine this as the Presidential Race (I couldn't find a better pic!)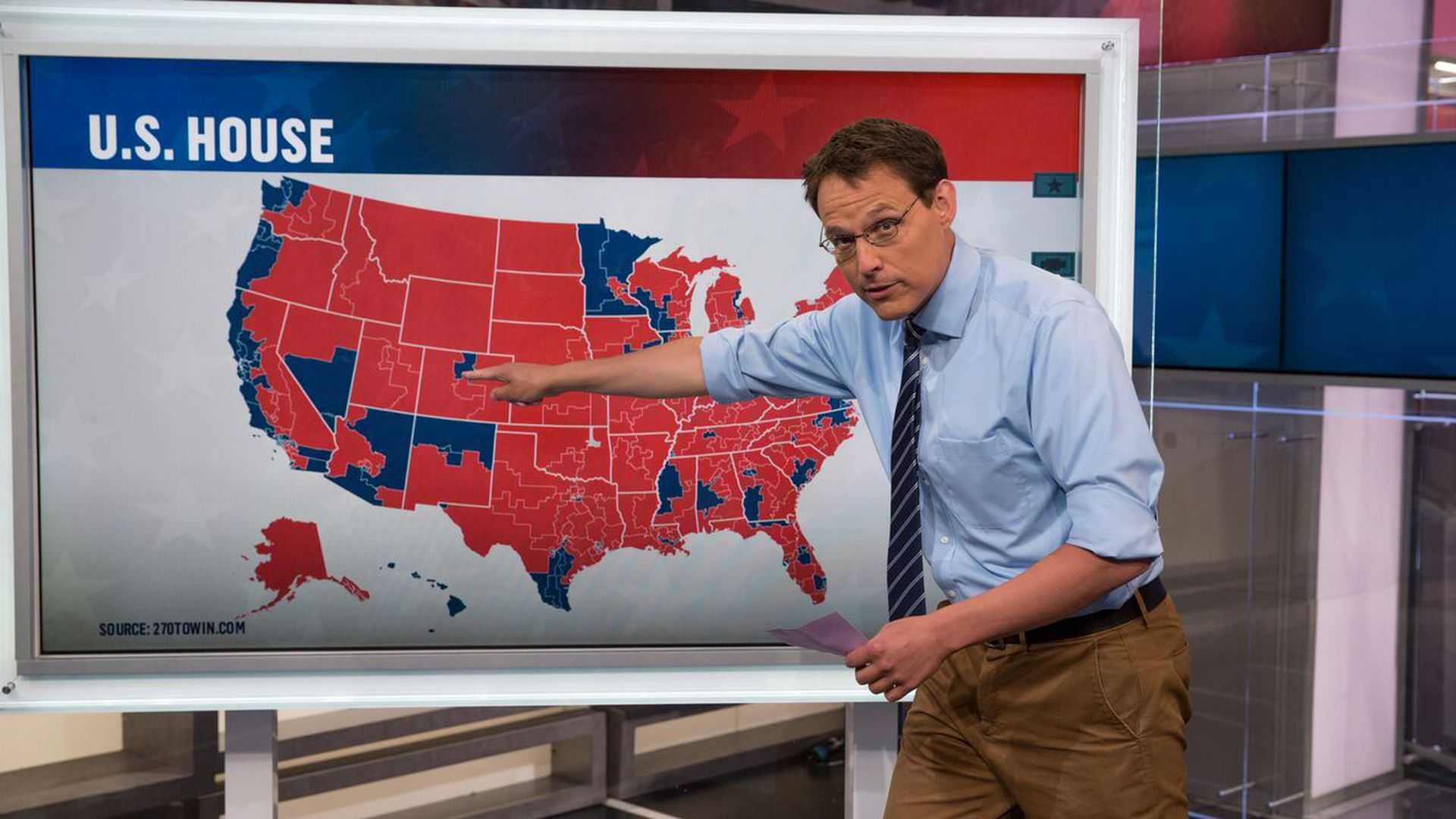 I told J that children should Trick-or-Treat as Steve Kornacki!
Such an easy costume, right?
Tan pants, glasses, button down shirt and a tie....rolled up piece of paper in hand
and a poster board of the "Big Board" .
J said that it was a good joke in the house, but not to do for reals...because it isn't Scary Enough! I quickly retorted, Make the whole map red, that'll be scary!
Ha
As we wind down these last days to our future of our world election,
May you keep a sense of humor
May you embrace a patient nature
May you hold on to your sanity!
Be well all
xo